With so much fall color around us, I wanted to make some art with the leaves. After trying the wax paper and an iron method, we discovered that there is a much better way.
Get out your laminators, Ladies, and start saving leaves!!! It works wonderfully.
Note: after doing about 20 sheets, my laminator got mad and ate one- so I suggest using a feeder sheet to ensure that doesn't happen. Half a manila file folder works well.
We made a garland, a mobile and some lovely window decorations.
Before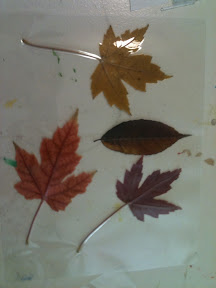 After
A window decoration and my artistic darling almost-6-year-old.